The Power of Video when marketing your business
The power of video for marketing is undeniable. In today's digital age, video has emerged as a captivating and effective tool for businesses to engage their target audience and convey their message. With its dynamic nature, video allows brands to tell compelling stories, showcase products or services, and create emotional connections with viewers. The combination of visuals, audio, and storytelling in videos captivates attention, making it easier for brands to grab and hold the viewer's interest. Moreover, videos can be shared across various platforms, including websites, social media, and video-sharing platforms, reaching a wider audience and maximizing brand exposure. Additionally, videos can convey information in a concise and entertaining manner, making complex concepts more easily understandable. Whether it's a promotional video, a tutorial, a testimonial, or an entertaining advertisement, video marketing has the power to leave a lasting impact on viewers, driving brand awareness, engagement, and ultimately, conversions.  Contact Duane to learn more  231-250-9624
Your Brand, Message and Story
DOWNLOAD ORDER FORM - click here
$30.00 for DVD or Digital Video on USB Drive
Want it mailed?  Add $8.00 for shipping within the U.S. $38.00
Include Name, address, phone number
Pick up at DW Video (Cash/Check) - Call for appointment 231-250-9624
Payment Options with Paypal.
see below
Videotapes-8mm Film and Slides transferred to Digital
The power of transferring videotapes, slides, and 8mm film to digital formats is immense. These analog formats hold precious memories and moments that may be at risk of deterioration or becoming obsolete. By converting them to digital, DW Video not only preserve the content but also unlock new possibilities for sharing, preserving, and reliving those memories. Digital formats provide a convenient and accessible way to view and share these nostalgic moments with family and friends, regardless of geographic location or the type of playback device they have. Moreover, digital conversion allows for easy editing, enhancing, and organizing of the content, enabling us to restore and improve the quality of old recordings. By bringing these analog treasures into the digital realm, we ensure their longevity, making them available for future generations to enjoy and learn from. The power of transferring these analog formats to digital lies in the ability to safeguard our heritage and make it easily accessible in a modern and convenient format.  Duane is ready to help, reach out, ask questions,  231-250-9624
Family Storytelling Videos – interviews with parents and family memories before they are gone.
We all wish we would have recorded a family member. That is how it started for Duane. Capturing the history is the start, check out the story behind the Why!  Don't wait until your family members are gone to wish you would have had them tell their family stories. 
The power of video in capturing family history is extraordinary. Through the lens of a camera, we can preserve the stories, experiences, and memories of our loved ones for generations to come. Video allows us to document family gatherings, interviews with elders, and special moments that might otherwise fade away with time. By recording these precious moments, we create a visual legacy that connects us to our roots and helps us understand our heritage. Videos capture not only the words spoken but also the emotions, expressions, and gestures that bring stories to life. They allow us to relive cherished moments and share them with future family members who may never have the chance to meet their ancestors. In this digital age, videos can be easily stored, shared, and accessed, ensuring that our family history remains alive and accessible to future generations. Whether it's a heartfelt interview, a holiday celebration, or a simple everyday interaction, video has the power to preserve and celebrate the rich tapestry of our family's story.
Your families story is too important to loose, contact Duane today Contact Duane today  231-250-9624
Connect with DW Video's other projects
Discover Montcalm Podcast
Duane hosts a weekly Podcast sharing Montcalm Counties stories about the Communities, Businesses, Attractions and the People. Check out all the episodes at Discover Montcalm Podcast.
Welcome to my Basement - The Jus Jammin Guys
Welcome to The Jus Jammin Guys page that is all about music they grew up with.  Check out the Rock and Blues music on their Facebook Page.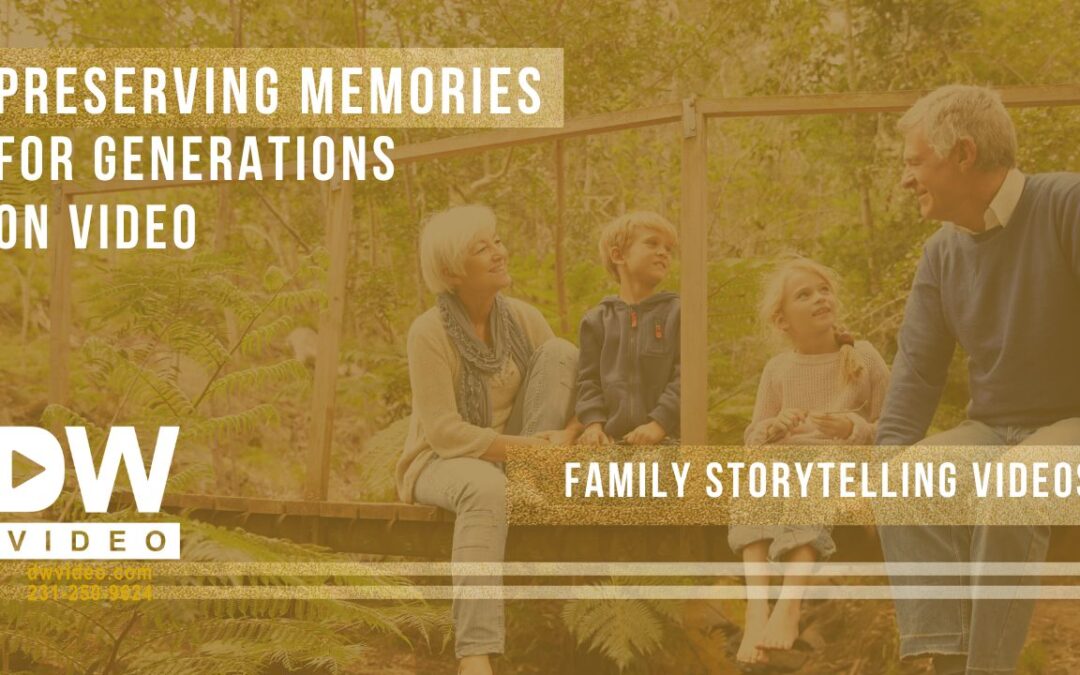 Preserving Memories for Generations on video Preserving Memories for Generations on video is the perfect gift you can provide for your family.   As the years pass, so do the cherished memories and stories of our loved ones. We often find ourselves longing to know more...