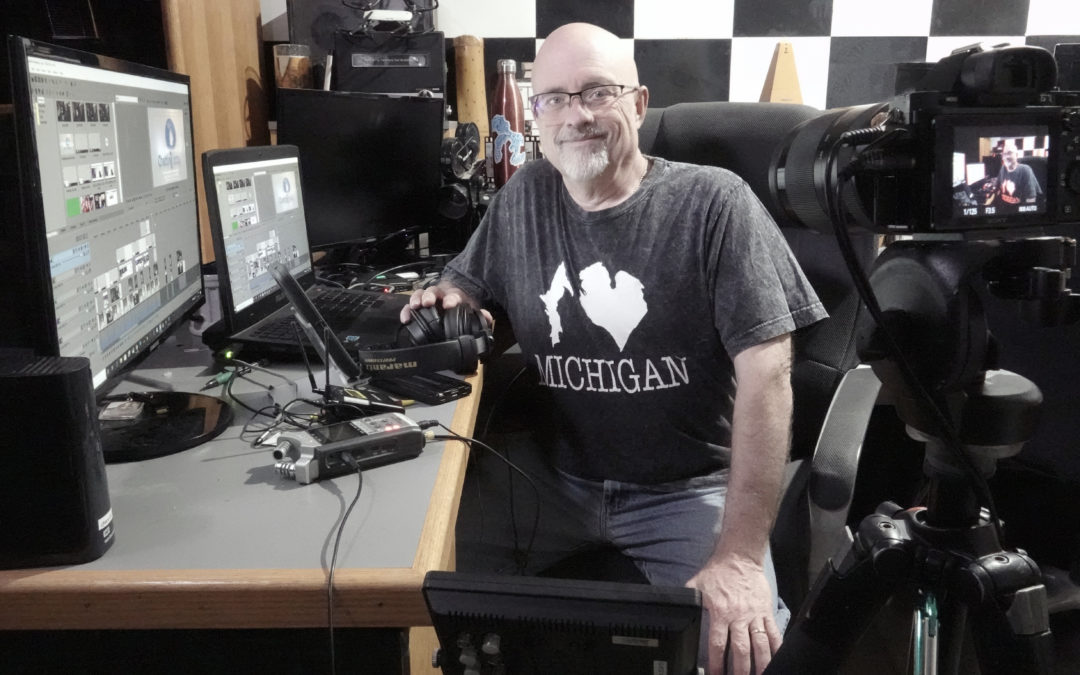 HOWARD CITY — Every business owner, organization leader, school staff and community member has had to fight their own battles and has their own story to tell throughout the COVID-19 pandemic.
Duane Weed, owner of DW Video & Multimedia in Howard City, wants to help spread those stories.
Since the COVID-19 pandemic began in Michigan in March, Weed has been hosting "Chatting Local" video sessions with community members and businesses throughout West Michigan.
"Back when this all started, we were actually on vacation," Weed told the Daily News. "When all of this came down and we were looking at it, we realized we needed to get home, back to where it was safe. My mind immediately started asking what can I do. What can little old me do? I started thinking that I could tell stories. I could reach out to people and start sharing their stories."
The purpose of these videos, Weed explained, is to highlight how one particular individual or organization might be responding to the pandemic and how others might be able to support them during this time.
"I'm not out for any dirt or doing an undercover investigation. I jokingly tell people that I'm not TMZ. It's all about the person," Weed said. "We'll discuss what's important to them, what are different ways that we can help them. I have no agenda here other than to tell their story."
On average, Weed publishes roughly two to three videos a week; although, there are times when he says he'll do closer to one a day.
All of the videos are done free of charge, as Weed's primary goal is to help spread messages about the importance of local purchasing.
"It's not about me. It's about them," Weed noted. "It's about whatever we can do to get their story out. If I can help them push it out to their networks, the important part is that it gets to their customers, their suppliers and distribution networks so that they can know what's going on with this particular business.
"The only thing I ask in return comes from sharing is caring — we'd like them to share the video and tag DW Video & Multimedia. That's the only thing I ask, because it's all about the sharing, pushing out and promoting local."
So far, Weed has published around 21 videos, with interviewees ranging from community members at Tri County Area Schools speaking about food distribution to Greenville Area Chamber of Commerce Executive Director Gae Wolfe touching on ways everyone can support local during this time.
"I did a story with (David Ringler) from Cedar Springs Brewing Co. He was very insightful about what's going on in that industry and the innovative things they're doing to keep their business alive," Weed mentioned. "I did a two-part series with West Michigan Technology and Design on how to use Zoom, since everybody is using it during this time."
Bill Simpson Jr., owner of Simpson Family Funeral Homes, recently worked with Weed for a video on how his business has had to adapt to the COVID-19 situation.
"Duane is a top-notch professional who knows his way around a video camera and software," Simpson told the Daily News. "He makes you feel very comfortable, and it's nice to have a local company supporting local businesses. We can go to Grand Rapids or use Amazon to buy things, but I'm a firm believer that we should shop local.
"Funeral home advertising is a little unique. People always appreciate knowing what's out there and knowing what your business offers. With funeral homes, sometimes people are afraid to ask questions — sometimes it feels weird or awkward. These videos are a non-threatening way to get those questions answered and update the community on things."
Weed says that he's also highly dedicated to making sure that each individual's video is of the highest quality.
"My big thing is audio and video. I work with the person to make sure I've got good headroom, good composition. We make sure they're not in front of a window. We're not after a witness protection image; we're more after making them look good," Weed said.
While Zoom is usually the most common format Weed uses to conduct the interviews, he's willing to work on whatever online platform the interviewee is most comfortable with.
According to Weed, the videos posted so far have generated plenty of interest and goodwill in the community.
"People are appreciative," he said. "Some of the videos will have ten to 12 shares; others will have 50 or 60 shares. That's telling me that the story is touching somebody."
Most of those Weed has interviewed live within West Michigan — whether that be in Montcalm County, Holland, Grand Rapids, Kalamazoo, Big Rapids, etc. — but he's also done a few videos for those in northern Michigan or around the Chicago area.
"There's a lot of hurt and anxiety that's currently going on," Weed said. "Businesses that are losing money or have lost money due to this stay at home order caused by COVID-19. We're fighting against something we can't see, and people understand that. They're doing the best they can to keep their doors open. They're being interactive, trying to be creative. Learning new techniques, reading books or mastering new procedures they can bring in the workplace.
"We've been dealt a whole new hand and have to figure out what that's going to look like. I'm hoping these stories inspire somebody and tells them they're not alone. That, to me, is inspiring."
For more information, visit dwvideo.com or search for DW Video & Multimedia on Facebook. Videos can also be found on the "Chatting Local" YouTube page.
Telling stories in the time of coronavirus – Daily News Greenville Michigan
DW Video & Multimedia launches free video program to tell stories of businesses, community members
Video production services near me is what DW Video & Multimedia, LLC has been providing since 1984.  Need a video for your business, organization, community or for your family?  
Being a Michigan based production company we go all over the state promoting local.  From Cadillac, Reed City, Mackinaw, Muskegon, Grand Haven, Grand Rapids to Kalamazoo, Greenville, Lansing, Rockford, Lakeview, Howard City and thoughout our wonderful state.
Business Videos
Since the beginning video producer Duane Weed has been creating videos that promote, train, provide safety information, product demonstrations, television commercials for cable/broadcast and now content creation for web and social media sites.
From concept through all stages of production, writing, creative, video capture (at your location or locations around the state, even in our studio of need be), editing, motion graphics, animation and whatever visual(s) needed to tell your story.
Content Creation for web and social media
Today video is engaging.  Video is also a powerful tool on your website to inform prospects on who you are and what you do.  Through consistent content creation for social media posts, Facebook, Instagram, Linkedin and more.  Through education about your products and services.  Tips on how to use your products and services.  Customer Testimonials that bring the message to the customer while building trust and answering the Why they need to choose you as the company to use. 
Family Storytelling Videos
How many times have you said, I wish my dad or mom could tell me that story again, or from a grandparent or relative.   Our Storytelling Videos are custom produced for your family including interviews, photos, old film movies and videos.  Whatever you need to tell the story, no problem.  Hearing your relatives relive their early years, your parents talking about how they met, the proposal and when they began parents.
The Story's are priceless and through the power of video and Producer, Duane Weed's ability to capture the story, you will have a memory that is shareable for all to see and have.  Playable on mobile phones, tablets, laptops and can ever store it in the cloud.  
These are not just for families.  The same concept can be created to tell the history of a company or community.  Capturing the history, while people are still here to tell it is so important.
Consumer Video Production Services
Our video production services near me commitment includes video to dvd transfers, today we transfer to mp4 (put on a USB flash drive and you can share it with everyone).  We are amazed on how much 8mm, super 8mm film there is to still be transferred to mp4 and/or a dvd.  
Do you want sound with that?  Transferring reel to reel audio tapes, cassettes, 8-tracks and Lp's is also part of our consumer services production ability.
Have a wedding, anniversary, birthday coming up, our video albums are a perfect way to reflect on a person or couples years growing up.  Yes, we even do funeral videos that highlight the persons life.  Need the service covered for memories or for people that cannot make it… DW Video can do that as well.
About Duane
Duane Weed is a content producer for DW Video.  With a focus on promoting Michigan based companies he enjoys helping businesses from everywhere. Have a question or need assistance reach out by calling 231-250-9624.
Video Blogs produced by DW Video:  Buy Local Michigan  Welcome to my basement Jus Jammin  MI Basement Session
DW Video Reviews
Reviews from our clients are impactful and mean so much to all of us at DW Video.  Sharing your review is a humbling experience for owner Duane Weed.  Local business owners that we have worked for will share their review with you below.  Taken from Google Reviews and UpCity here is what our customers have to say.  
Check out DW Video Reviews the testimonials on our Google My Business page.
See reviews on our UpCity Page.
AUTHOR You Shoot We Edit Video Services:
Duane Weed, Video Producer since 1983
Cameraman, Editor, Director, Concept guy and even carries and sets up his own equipment.
Michigan Video Production Company
Video Blogs produced by DW Video:  Buy Local Michigan  Welcome to my basement Jus Jammin  MI Basement Session
You Shoot We Edit Video Services. the simple answer is, You Shoot the video, then DW Video does the edit.  In today's world of connecting with customers a consistent mix of messages need to be sent out on your behalf.  Contact Duane with any questions you may have. 
Shooting the video is usually the easy part.  Especially with the quality coming off today's phones.  Editing and wrapping your brand message around it, takes time.  Time that may be better spent with you 'Taking Care of Business'.  
As a video producer our bag of tricks, equipment and techniques is huge.  However, for the most part you may not need all of that. This is where the We Edit part comes into play.  Once you have the video (see Lighting and Composition Tips below) send it to a cloud based platform like Dropbox and share the folder with us.
Our job and what we do best is clean up the edit, add titles, logo and additional b-roll if needed.  You run a business, it may not be a million dollar venture yet, but you need to look professional and have a strong brand identity and message.  
Let's take a look at Producing Tips for your next video:
Use a Script keep it short and to the point.  people do not want to hear you talk and talk and not get to the point.

Be Concise, the beauty of video is they see what you are teaching.

Audio is 90% of a good video.  Pay close attention to background noise, radios, chatter etc.

Are you doing this in front of background or on-site. What is pleasing to the audience.

Set up your scene: Long Shot or as it is called an establishing shot.  This lets the viewer know where you are. Then use close-ups and medium shots as needed to tell the story.

Use two cameras and sync in editing.  One can be your establishing shot and one covering the close ups.  If you only have one camera, then shoot the scene from multiple angles to get your shots.  Pay close attention to match cuts so the edit is smooth.

Lighting: depending on what you are doing, will natural light work or do you need additional lighting?

Use your script and outline as a guide to make sure you have captured all the shots before leaving the site.

Create additional graphics, animations, images that fit within your script and story.

Edit – putting it all together.  This is time consuming but where you see the video come to life.  From script to real.

Distribution.  Are you streaming this?  Providing DVD's or on thumb drives?  Setting up a dropbox or similar account that your people can download.
You Shoot We Edit Video Services Tips: (these are not in any order – just good overall tips for shooting better video)
For professional video hold your phone horizontally (landscape mode) so you get the full 1920 X 1080 HD look.
Vertical Shooting (portrait mode) is good for video chats and some live social media platforms.  For me, whenever I see a business shoot this way, it looks cheap and not professional. First impressions and your brand are key.
 Frame your shot well.  For the most part frame the objects to the left or right of center.  For example a golfer that is teeing off. Place them more to the side with the open area the direction the ball is going to go.  

If you are shooting for editing later. Using our Golfer as an example. Begin with a WIDE SHOT.  This wide shot is known as the establishing shot – begin back a ways to show the person walking up to the tee off area.  Tells the viewer where you are. Then if you can, re-shoot each scene as a MEDIUM SHOT which may be half as close as the open shot. Showing the person, head to toe as they do their practice swing.  You can see the full swing. Then a CLOSE UP SHOT. This can be of a person's face, the area near the golf ball as the club head goes by the ball, shot of the hands and the grip. Then maybe a couple EXTREME CLOSE UP SHOTS.  Tight on the ball as it is hit. In tight on their face as they watch where the ball goes. Then back to a WIDE SHOT over their shoulder looking down the fairway to again establish what just happened. 

Resist the urge to over use the zoom. To much zoom and people get motion sickness and it cheapens the look of your production. 

I came up with the term: Slow, Smooth and Steady when teaching High School students how to shoot video.  When you pan (turning the camera left and right) or tilting (looking up or down) do it slowly. Do it with a smooth flow and be steady in your motion.  If you are going for a professional look, remember the three S's. Slow, Smooth and Steady.

Use a Tripod whenever possible.

Do you want sound with that?  Audio is 90% of a good video. If your viewer cannot hear what you are saying, there is too much wind noise for example this is very distracting. Adding a Lavalier Mic or Shotgun Mic to your camera will take care of most of this.
The closer the camera is to the subject usually the better the audio. 
Be aware of what is in the background.  Pop cans, unwanted posters or messaging, stacks of papers and people can all cause distractions to the viewer. 

LIGHTING – cameras need light, this light adds features to your face.  There are many ways to do this. One big no no is do not place your subject in front of a window.  The backlighting will darken your image. Not using enough light (place in the right places), your video will look like an amateur shot it.  Remember this is your brand you are protecting – do not go cheap on this aspect.

  Practice, Practice, Practice.  This not only goes for shooting the video.  Also pay attention to how you carry yourself on camera.  BTW, most people do not like the way they look on camera BUT, it this is your business, no one sells it better than you.  You are the expert. Take time to feel comfortable in front of the camera. This takes practice. Remember with the You Shoot We Edit approach, take 2 is a good thing.
Accessories to consider.  We are not endorsing anybody here.  (Used as examples only)
LED Lights
https://www.amazon.com/Neewer-Pieces-Bi-color-Video-Light/dp/B06XW3B81V/ref=sr_1_5?crid=2OIG8TGMHFJTX&keywords=video+lighting&qid=1574372481&s=electronics&sprefix=video+lighitn%2Celectronics%2C166&sr=1-5
Soft Lights https://www.amazon.com/HPUSN-Professional-Photography-Continuous-Reflectors/dp/B07NBP6D98/ref=sr_1_3?crid=2OIG8TGMHFJTX&keywords=video+lighting&qid=1574372616&s=electronics&sprefix=video+lighitn%2Celectronics%2C166&sr=1-3
Portable Lights
https://www.amazon.com/Dimmable-Digital-Camcorder-Panasonic-Samsung/dp/B004TJ6JH6/ref=sr_1_17?keywords=portable+video+lighting&qid=1574372788&s=electronics&sr=1-17
Mics for phones (this can be tricky as phones are changing all the time – check the model of phone you have before making a purchase)
https://www.amazon.com/CVM-SIG-LAV-V05-MI-Omnidirectional-Microphone/dp/B07NQ91QNZ/ref=sxin_3_ac_d_pm?ac_md=4-3-QWJvdmUgJDUw-ac_d_pm&crid=30XGD49G75PSM&keywords=lav+mic+for+iphone&pd_rd_i=B07NQ91QNZ&pd_rd_r=26ba5648-90c3-4149-8d4c-d09a5a71d223&pd_rd_w=UAQ2j&pd_rd_wg=PWTus&pf_rd_p=24d053a8-30a1-4822-a2ff-4d1ab2b984fc&pf_rd_r=1FWR0REE1YEJC9T8ZG3Z&psc=1&qid=1574372889&sprefix=lav+mic+for+iphone%2Caps%2C187
https://www.amazon.com/Microphone-Smartphones%EF%BC%8CNoise-Cancelling-Recording-Conference/dp/B07TB8PX1V/ref=sxin_3_ac_d_pm?ac_md=1-0-VW5kZXIgJDIw-ac_d_pm&crid=30XGD49G75PSM&keywords=lav+mic+for+iphone&pd_rd_i=B07TB8PX1V&pd_rd_r=cc80d84f-3f9f-4220-b871-fff288d6a033&pd_rd_w=37SLj&pd_rd_wg=68cPk&pf_rd_p=24d053a8-30a1-4822-a2ff-4d1ab2b984fc&pf_rd_r=BFZZSWAEWNB4VES1ZY72&psc=1&qid=1574372922&sprefix=lav+mic+for+iphone%2Caps%2C187
Audio Recorder (great for running pro mics into and syncing the audio tracks to the video through editing)
https://www.amazon.com/Zoom-4-Channel-Recorder-Windbuster-Adapter/dp/B01GOUVLZM/ref=sr_1_8?keywords=zoom+recorder&qid=1574373097&s=electronics&sr=1-8
https://www.amazon.com/Microphone-Alvoxcon-Recording-Conference-Interview/dp/B07TV7J574/ref=sr_1_11?keywords=cordless+mic+for+phone&qid=1574373187&s=electronics&sr=1-11
Training
One key element to this approach is when you are working with DW Video for You Shoot and We Edit is we will train you.  Train you with your camera/phone. Your success is ours. So before you go out and shoot your video, take time to learn.  We are here to help.  
There is so much that can go into a video.  Your message needs to be clear, the images in focus and the storytelling concise. Have fun.
AUTHOR You Shoot We Edit Video Services:
Duane Weed, Video Producer since 1983
Cameraman, Editor, Director, Concept guy and even carries and sets up his own equipment.
https://www.dwvideo.com
Video Blogs produced by DW Video:  Buy Local Michigan  Welcome to my basement Jus Jammin  MI Basement Session