DW Video Google My Business Website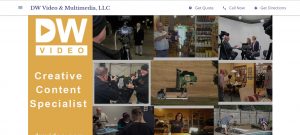 DW Video Google My Business Website is another tool we as business owners may want to pay close attention to.  Help your Google presence by creating, editing and publishing your Google My Business website.  Check out our site at https://dw-video-multimedia-llc.business.site  
Business Profile
Create and or update your business profile.  According to Google, "Take charge of what people see when they do a local search for your business. Google My Business gives you the tools to update your Business Profile and engage with your customers from your phone, tablet and computer."  Note that you need to have a verified listing on Google My Business to use the website builder.
Why Google My Business Website
So easy to create a one page site and manage it via your business profile.
Use it as a landing page for your Google My Business Profile.
Add images, custom cover photo.
Since it is google it easily matches up with Google Maps.  Shows your contact and business hours info.
You don't even have to worry about updating as Google automatically updates your information for you from the data from your google my business listing.
Mobile-friendly.
Already have a website
Google My Business is yet another online asset to expose people to your business. Google is a credible platform to get your branding and messaging consistent.
Contact Duane at 231-250-9624.