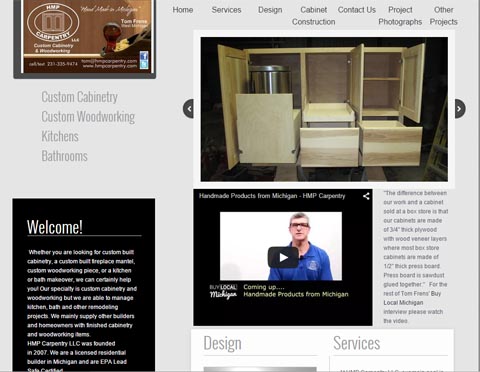 Tom Frens uses his Buy Local Michigan interview on his website to inform and educate customers on his business.
From his website he wrote an intro to what the video was about along with a hyper-link to Buy Local Michigan. This is what he wrote: "The difference between our work and a cabinet sold at a box store is that our cabinets are made of 3/4″ thick plywood with wood veneer layers where most box store cabinets are made of 1/2″ thick press board. Press board is sawdust glued together."   For the rest of Tom Frens' Buy Local Michigan interview please watch the video.
Instead of having just a link to Buy Local Michigan, Tom described the video and then included the link.  This is a good Google practice.  I keep saying this, do not over do the link exchange because Google frowns on that. Having a useful balance is important.
To be a guest on Buy Local Michigan and share your Michigan story, contact Duane at 231-937-5420.