For years we have been producing video 0n-line testimonials for others.  It is a humbling experience when the kind words are returned.  Casey DuBois a board member of the Grand Rapids Inventors Network and one of the founding members of GR Makers.  We were at a GRIN meeting and I was recording the presentation on 3D Laser printers… wow, very cool by the way.
At the end of the meeting Casey informed the group of DW Video & Multimedia's new Buy Local Michigan's Video Blog.  The following video was unexpected and greatly appreciated.
[youtube_sc url="https://www.youtube.com/watch?v=2tDukLZ2oOw" title="GRIN%20recommends%20DW%20Video" width="380″ height="270″ rel="0″]
DW Video has been producing video 0n-line testimonials for others for use on their websites and social media sites.  Sharing your story with others is important.  Producing video 0n-line testimonials sell your products and services.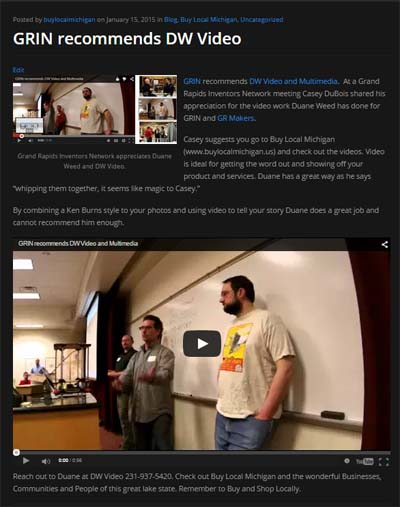 Buy Local Michigan Video Blog is produced by DW Video & Multimedia, LLC.  Our goal is to promote Michigan Businesses, Communities and People.  Businesses include everyone: Industrial, Manufacturing, Retail, Organizations, Health Care, Non-Profits, Schools, Universities and Professional Services.  Communities include: Cities, Villages, Towns and Tourism.  People include Sports-Political-Actors and anyone doing great works.