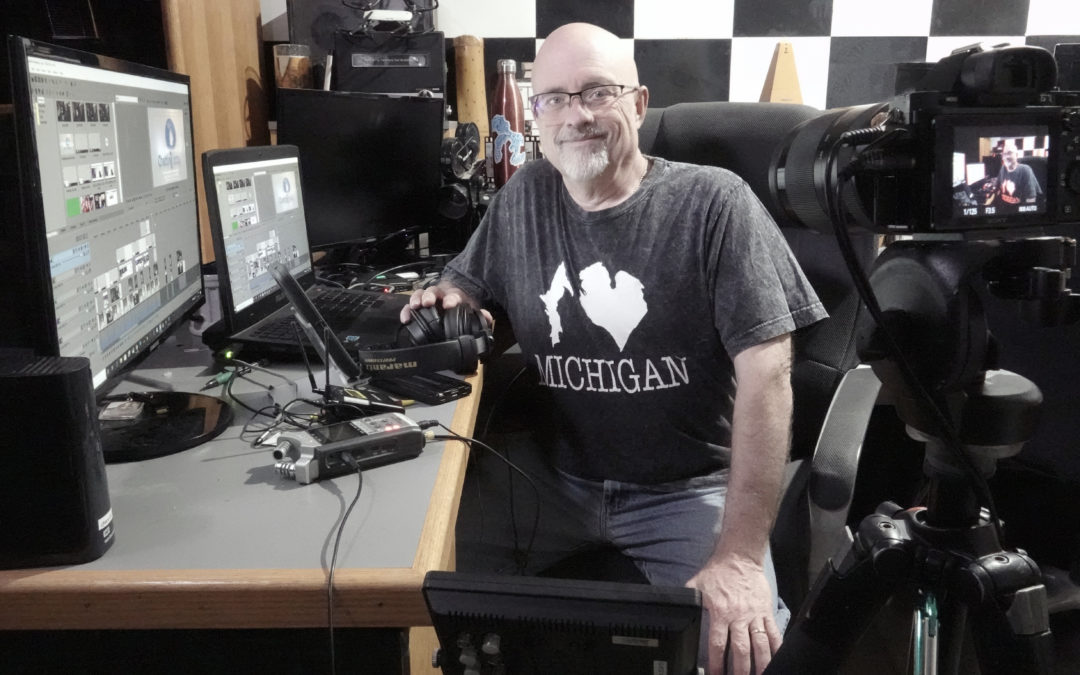 HOWARD CITY — Every business owner, organization leader, school staff and community member has had to fight their own battles and has their own story to tell throughout the COVID-19 pandemic.
Duane Weed, owner of DW Video & Multimedia in Howard City, wants to help spread those stories.
Since the COVID-19 pandemic began in Michigan in March, Weed has been hosting "Chatting Local" video sessions with community members and businesses throughout West Michigan.
"Back when this all started, we were actually on vacation," Weed told the Daily News. "When all of this came down and we were looking at it, we realized we needed to get home, back to where it was safe. My mind immediately started asking what can I do. What can little old me do? I started thinking that I could tell stories. I could reach out to people and start sharing their stories."
The purpose of these videos, Weed explained, is to highlight how one particular individual or organization might be responding to the pandemic and how others might be able to support them during this time.
"I'm not out for any dirt or doing an undercover investigation. I jokingly tell people that I'm not TMZ. It's all about the person," Weed said. "We'll discuss what's important to them, what are different ways that we can help them. I have no agenda here other than to tell their story."
On average, Weed publishes roughly two to three videos a week; although, there are times when he says he'll do closer to one a day.
All of the videos are done free of charge, as Weed's primary goal is to help spread messages about the importance of local purchasing.
"It's not about me. It's about them," Weed noted. "It's about whatever we can do to get their story out. If I can help them push it out to their networks, the important part is that it gets to their customers, their suppliers and distribution networks so that they can know what's going on with this particular business.
"The only thing I ask in return comes from sharing is caring — we'd like them to share the video and tag DW Video & Multimedia. That's the only thing I ask, because it's all about the sharing, pushing out and promoting local."
So far, Weed has published around 21 videos, with interviewees ranging from community members at Tri County Area Schools speaking about food distribution to Greenville Area Chamber of Commerce Executive Director Gae Wolfe touching on ways everyone can support local during this time.
"I did a story with (David Ringler) from Cedar Springs Brewing Co. He was very insightful about what's going on in that industry and the innovative things they're doing to keep their business alive," Weed mentioned. "I did a two-part series with West Michigan Technology and Design on how to use Zoom, since everybody is using it during this time."
Bill Simpson Jr., owner of Simpson Family Funeral Homes, recently worked with Weed for a video on how his business has had to adapt to the COVID-19 situation.
"Duane is a top-notch professional who knows his way around a video camera and software," Simpson told the Daily News. "He makes you feel very comfortable, and it's nice to have a local company supporting local businesses. We can go to Grand Rapids or use Amazon to buy things, but I'm a firm believer that we should shop local.
"Funeral home advertising is a little unique. People always appreciate knowing what's out there and knowing what your business offers. With funeral homes, sometimes people are afraid to ask questions — sometimes it feels weird or awkward. These videos are a non-threatening way to get those questions answered and update the community on things."
Weed says that he's also highly dedicated to making sure that each individual's video is of the highest quality.
"My big thing is audio and video. I work with the person to make sure I've got good headroom, good composition. We make sure they're not in front of a window. We're not after a witness protection image; we're more after making them look good," Weed said.
While Zoom is usually the most common format Weed uses to conduct the interviews, he's willing to work on whatever online platform the interviewee is most comfortable with.
According to Weed, the videos posted so far have generated plenty of interest and goodwill in the community.
"People are appreciative," he said. "Some of the videos will have ten to 12 shares; others will have 50 or 60 shares. That's telling me that the story is touching somebody."
Most of those Weed has interviewed live within West Michigan — whether that be in Montcalm County, Holland, Grand Rapids, Kalamazoo, Big Rapids, etc. — but he's also done a few videos for those in northern Michigan or around the Chicago area.
"There's a lot of hurt and anxiety that's currently going on," Weed said. "Businesses that are losing money or have lost money due to this stay at home order caused by COVID-19. We're fighting against something we can't see, and people understand that. They're doing the best they can to keep their doors open. They're being interactive, trying to be creative. Learning new techniques, reading books or mastering new procedures they can bring in the workplace.
"We've been dealt a whole new hand and have to figure out what that's going to look like. I'm hoping these stories inspire somebody and tells them they're not alone. That, to me, is inspiring."
For more information, visit dwvideo.com or search for DW Video & Multimedia on Facebook. Videos can also be found on the "Chatting Local" YouTube page.
Telling stories in the time of coronavirus – Daily News Greenville Michigan
DW Video & Multimedia launches free video program to tell stories of businesses, community members
Promoting others is not that hard and is an art we all should learn.  This morning while surfing through my Facebook Feed I noticed business friends taking time to play games and the sharing.
The game that caught my eyes was one of those, "Put a dot by the states you have been to." Now, before going on with this blog post.  Yes, I have fallen into this same trap.  I am calling the kettle black.  I have done this as well.  However, this morning, this one post really got me thinking.
So you run your own business, school, organization? Money is always tight when it comes to promoting your business.  In the same amount of time you spend 'playing games' you can help your business by promoting others.
Take the time to promote others by going to the organizations you belong to and sharing post about others to your main feed and business page.  I call it, sharing the love.
Now listen and this is very important.  When you share the post STOP! DO NOT JUST SHARE!!!!  Take a moment and write something about the post you are sharing.  Make it personal, give others a reason to read.  I often say that if you are blowing something up, have something sexy it is hard for post about businesses to go viral and not just that to have any traction at all.  It takes all of us to captain our ship (our business).  The Art of Promoting Others is a mindset that you have to get into.  By you sharing, commenting and promoting others…. you are promoting your business, your community, your local people.  Get on board and help your community grow – promote others.  GOOGLE My Business