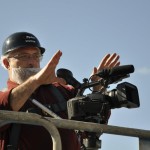 Producer-Director Duane Weed is ready to serve the Reed City.
Reed City Michigan is conveniently located at the junction of U.S. 131 and highway 10. Reed City's historical claim to fame came from being the place where Michigan's main north/south and east/west railroads intersected, known as "Michigan's crossroads. Serving the community with video, media and web design services is DW Video & Multimedia, LLC.
[youtube_sc url="http://youtu.be/OeG2ISR-ii4″ title="Reed%20City%20Michigan" rel="0″]
Video is considered as one of the best methods for communicating with audiences. With our Buy Local Video Profiles we have an affordable way to tell your story.  Need more with your video production, no problem, we will be happy to quote.  Company Image, Safety, Training, New Product, Broadcast Commercials, Medical videos and more.
Types of video productions we specialize in: Company Image Video, Web Video, Professional Services, Non Profit Video, Retail Video, Church Video, School Video, Broadcast Commercials, Event Video, Video Testimonials , Promotional Video, New Product Video, Training/Safety Video and Stock Video.
Our services include: Producer/Director, On-Location Video Capture, Video Editing Service, Web Video Production, DVD Production / Duplication, Website Design, 
Multi-Camera Production, Animation / Motion Graphics, Green Screen, Audio Production, Photography, Print and Design, Custom Web App Programming and Search Engine Optimization. 
Consumer Services include:  Film to DVD, Slides to DVD, Cassettes-Albums-Reel to Reel to Audio CD/Mp3,  all formats of Video to DVD.  Need 1 or 10,000 CD/DVD copies… we can do that as well. ALL work is done in-house.  Here is what Chris has to say about our consumer services. [youtube_sc url="http://youtu.be/AkOl5dBm6ks" title="Reed%20City%20Michigan%20consumer%20services" rel="0″]
Promoting Michigan Businesses, Communities and People.
[youtube_sc url="http://youtu.be/HUC9sA0eoD0″ title="dw%20video%20Reed%20City%20Michigan" rel="0″]